Throwback Thursday, December 7th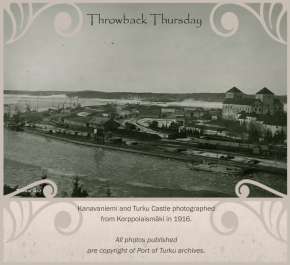 This year Finland is celebrating 100 years of independence. To honor the anniversary we publish a series of photos from the Port of Turku archives themed Throwback Thursday. The captions are short, so if you have more information about the photos, please share it with us in the Port's comment fields in LinkedIn and Twitter.
In 1916 i.e. a year before the independence of Finland, the port was landscaped by several cranes and of course the Turku Castle. The strong growth in international traffic was interrupted by the 1st World War. During the war the Russian Navy founded the Turku-Åland Islands Archipelago Station, which headquarters and service center served in Turku's military harbour.