Ice cream with solid principles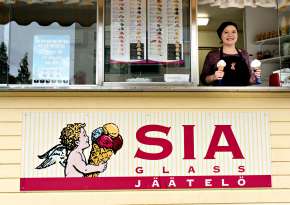 Sia ice cream, a Swedish classic, is always made from fresh cream. The ice cream is carried from Halmstad, near Gothenburg, on Scandic Trans trucks via the Port of Turku to gourmets all over Finland.
Ice cream must be made from cream – otherwise you can forget it. Managing Director Tom Östman says that the attraction of Sia ice cream lies in its uncompromising quality, because the competition on the ice cream market is tight. Sia Glass is Sweden's oldest family-owned company whose roots date back to 1569. Östman Trading has imported the ice cream to Finland since 2002, and is responsible for its marketing, sales and distribution here.
Ice cream is a sensitive product in terms of transports and requires precise logistics, and the cold chain must not be broken.
"Scandic Trans transports the products from Halmstad via the Port of Turku to our main warehouse in Kokkola, and from there the ice cream is distributed directly to customers. Co-operation with Scandic Trans has run smoothly since 2002, I have only good things to say about them", Tom Östman says.
Ice cream requires high-quality transport equipment
The journey of ice cream begins with loading in Halmstad.
"The loading space is pre-cooled", says Mikael Löfqvist, Managing Director of Scandic Trans.
Scandic Trans vehicles are ATP certified trucks equipped for transports of foodstuffs. FNA trucks are suited for refrigerated transports, FRC trucks for frozen products, such as ice cream. The transports are precisely scheduled. The departure from Halmstad to the ferry to Finland takes place around noon, and the driver then has time for 1 or 2 breaks on the way. A place with an electricity outlet is booked for the truck on the ferry. On board the vessel the refrigeration equipment is run by electricity, otherwise by diesel engine.
"The drivers have a hygiene passport and training related thereto. They have studied how foodstuffs need to be handled, and they know what will happen if the temperature changes", Mr Löfqvist says. The driver monitors the temperature of the cargo all the time and receives an alarm if the temperature rises over or falls below the set limit. The trucks are followed in real time with a GPS system, and the customer can also monitor the temperature during the transport online.
"We order enough ice cream at a time to fill a truck or articulated truck", Mr Östman says. As a general rule the doors of the truck are not opened after the loading until the shipment is unloaded at the warehouse in Kokkola. Mr Östman says that the shipments are more frequent in the spring, and the rate slows down from July on.
Finns are a nation of ice cream lovers. In the cold north people cool themselves by eating ice cream.
"It's always good. We are among the top countries in ice cream consumption", Tom Östman says.
Published at Port of Turku Customer Magazine Aboard 2/2017.