Port's landmark celebrates a special anniversary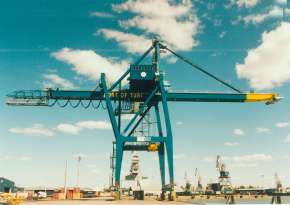 In 1997, Turun Sanomat –newspaper reported that the port of Turku had received a new remarkable landmark, when a new container crane over 50 meters high had started operations. The Andsaldo crane, weighing 600 tonnes, was imported from Italy by sea. This year, 20 years have passed since the launch of Ansaldo in the port.
Ports cranes, including Ansaldo, have experienced many reforms over the years. This year, the port has implemented a massive overhaul of container and multi-purpose cranes as part of the development of services for cargo transports. In conjunction with the repairs, the crane logics were also modernised, which ensures more efficient crane services, including project loads of the heavy industry. Faster lifting enhances cargo handling and contributes to cutting further the Port of Turku's already short turnaround times.