Hours of preparation ensure smooth loading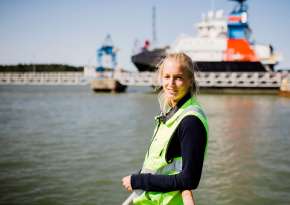 Field supervisor Heidi Lehtonen and other professionals working in the port are responsible for the supervision and smooth flow of cargo at Tallink Silja. Varying duties and the flexibility of the employer have kept her in the port for over 10 years.
When Heidi Lehtonen arrived at the Tallink Silja cargo gate in the Port of Turku in spring 2007 after completing her matriculation examination, she was hardly expecting that a summer job would extend to ten years of work. However, she soon found that she enjoyed the pace of work and varying tasks in the port.
"The days may be very different and include anything from the cargo clearance in the office to traffic guidance on the field. After all the ships stay in the port for a very short time, and most of the day is spent on preparing for the next arriving vessel", Heidi Lehtonen says.
Morning and evening ferries set the schedule for the day
Tallink Silja ferries are moored in the Port of Turku at seven in the morning and shortly after seven in the evening, so the professionals in charge of cargo work in shifts. Heidi Lehtonen says that it suits her very well.
During the ten years, she has gotten used to irregular working hours, and the work is made more meaningful by the fact that she can affect its content. One important thing for Ms Lehtonen is that she gets to move on the field and work outdoors.
"Shift work is certainly not suited to everyone. But I like it and enjoy getting home at 9.30 after a morning shift. I worked in a regular nine-to-five job at Tallink Silja for three years, but this is better suited to me", Ms Lehtonen assures.
Information passes through the field supervisor
Last summer Heidi Lehtonen received greater responsibility with the post of a field supervisor. The duties of the field supervisor include e.g. following the arriving manifests and cargo lists and ensuring that there are enough employees on the field. She also acts as the liaison officer between the vessel, cargo customers and employees.
"If a ship informs about something special to be noted, the field supervisor receives the wishes. I see to it that there is enough staff for loading in the port. The information passes through the field supervisor, but in practice the job includes pretty much everything."
Heidi Lehtonen says that co-operation with the other professionals working in the port area is seamless, but she sometimes has to instruct people who have forgotten about the special nature of the port area.
"People don't always remember that the Port is a strictly controlled and regulated area, and could be compared to an airport. Once you have entered through the gates, the control is tight, and you can't move around anyway you please."
Published at Port of Turku Customer Magazine Aboard 2/2017.