Throwback Thursday November 16th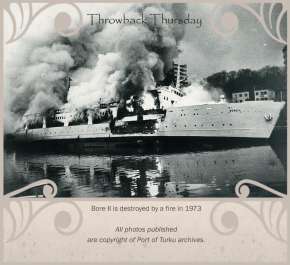 This year Finland is celebrating 100 years of independence. To honor the anniversary we publish a series of photos from the Port of Turku archives themed Throwback Thursday. The captions are short, so if you have more information about the photos, please share it with us in the Port's comment fields in LinkedIn and Twitter.
Bore II, was actually the fifth vessel of the same name. When it was completed in 1952, its name was S / S Aallotar. The ship was one of the three so-called Olympic boats that Finnish shipping companies had ordered for the Olympic Games in Helsinki. She sailed under the name Bore II between 1971 and 1973 until she was burned in November 1973 during winter dock in Turku. The vessel was badly damaged and half sunk in the River Aura. It was lifted and the wreck was sold to Helsingin Romuliike Oy for scrapping. However, the vessel retained a 35-meter-long section, which was converted to a barge and named Aksu.