Throwback Thursday November 9th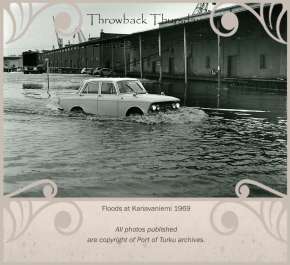 This year Finland is celebrating 100 years of independence. To honor the anniversary we publish a series of photos from the Port of Turku archives themed Throwback Thursday. The captions are short, so if you have more information about the photos, please share it with us in the Port's comment fields in LinkedIn and Twitter.
This time, Throwback Thursday takes us to the year 1969. In the picture taken from Kanavaniemi, we can see what kind of floods emerged in the area. Floods arose when seawater was exceptionally high and at the same time, the autumn storm pushed the water into the harbor. The surface of the pier and the street areas of Kanavaniemi had previously been so low that the sewers began to act "backwards": hence, the water rose from the sea to the streets and squares, instead of leading the rainwater to the sea. In 2009, the street areas were raised so that water could no longer rise through the sewers to the streets.