Throwback Thursday, November 2nd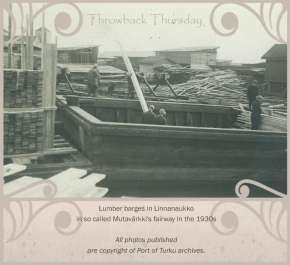 This year Finland is celebrating 100 years of independence. To honor the anniversary we publish a series of photos from the Port of Turku archives themed Throwback Thursday. The captions are short, so if you have more information about the photos, please share it with us in the Port's comment fields in LinkedIn and Twitter.
In the 1930s, the port of Turku was lively; the shipyard repaired and built new ships. Regular liner traffic to Stockholm had started. A lot of timber was handled and Linnanaukko was filled with wood. At Linnanaukko the timber was loaded on to barges in so called Mutavärkki´s fairway. The fairway was named after the dredger Mutavärkki.