Throwback Thursday, October 26th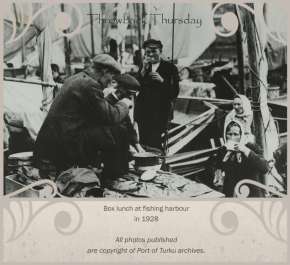 This year Finland is celebrating 100 years of independence. To honor the anniversary we publish a series of photos from the Port of Turku archives themed Throwback Thursday. The captions are short, so if you have more information about the photos, please share it with us in the Port's comment fields in LinkedIn and Twitter.
Last week the herring market took place on the banks of the River Aura. The autumn market has been held on the River Aura since 1636. The fishermen sold fish from their boats until the mid-1900s. As the traffic conditions improved fish sales gradually moved mainly to the market square. In this picture from 1928 the fishermen take a well-earned lunch break at the market.