Throwback Thursday, October 19th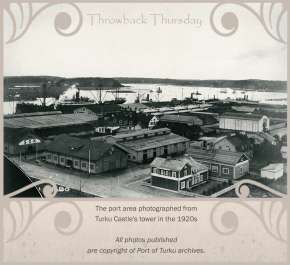 This year Finland is celebrating 100 years of independence. To honor the anniversary we publish a series of photos from the Port of Turku archives themed Throwback Thursday. The captions are short, so if you have more information about the photos, please share it with us in the Port's comment fields in LinkedIn and Twitter.
In the 1920's, the port area seemed somewhat different to what it is today. On the left of the picture is the large warehouse of SOK. On the right, the curved light-colored building was Rettig's tobacco warehouse, from where the well-known "Geulen waakuna" pipe tobacco was delivered to various parts of the country.