Throwback Thursday, October 5th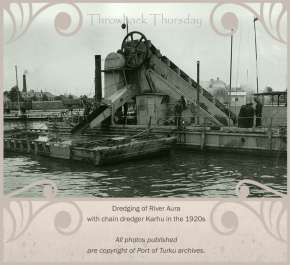 This year Finland is celebrating 100 years of independence. To honor the anniversary we publish a series of photos from the Port of Turku archives themed Throwback Thursday. The captions are short, so if you have more information about the photos, please share it with us in the Port's comment fields in LinkedIn and Twitter.
A new dredging program was launched in 1902, spurred on by the start of the winter shipping service. An essential part of the program was to replace the old dredging equipment, which the City Council granted funds for in 1905. At that time, a steam-driven chain dredge Karhu that served the port for more than 80 years, was acquired.