Throwback Thursday, September 28th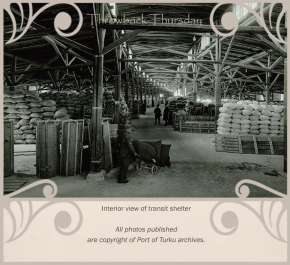 This year Finland is celebrating 100 years of independence. To honor the anniversary we publish a series of photos from the Port of Turku archives themed Throwback Thursday. The captions are short, so if you have more information about the photos, please share it with us in the Port's comment fields in LinkedIn and Twitter.
This is how a transit warehouse looked like in the 1930's; countless number of sackcloth along the warehouse floor in neat rows. The Port of Turku was mainly an import harbour and in tonnes the main product of import was coal and in the late 30's oil products. Coffee, sugar and rawcotton for example were brought in sacks.