From May city-bikes can be borrowed from the port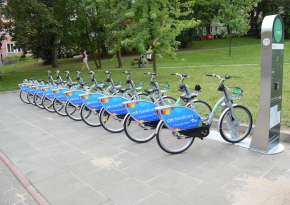 In May, Turku will start a city-bike experiment with 300 city bikes. There will be 37 racking stations, three of which are movable. The stations will be situated from Kupittaa area to the port.
City Bikes is part of the Civitas Eccentric project, which aims to develop smart mobility in Turku.
─ The introduction of a collective driving system supports many of the urban policy guidelines for sus-tainable and climate-friendly mobility. I believe that the system will provide bikers with a new alternative to individual journeys as well as part of the daily travel chain, says City Planning Director Timo Hintsanen from City of Turku.
Bikes come from Nextbike Polska S.A., which won the bidding. Nextbike has internationally about 35,000 bikes in 23 countries in four continents.
─ We have the pleasure and the honor to be involved in bringing the city bike system to Turku. Based on the criteria of the bidding competition, we offer the city the latest patented smart bike model that com-bines the characteristics of a conventional bike with electronic components such as a locking system. Environmental friendliness, safety and innovation are important areas for us, says the Polish Chairman of the Nextbike Tomasz Wojtkie-wicz.
The characteristics and the appearance of the bikes and the bike stands will be tailored at the beginning of the co-operation, to both urban and rural cityscape, as well as the public transport Föli in Turku. It is also possible to have sponsor visibility on the bikes. Further information on the technical features of the bikes will be published later in the autumn.
Photo: Nextbike Polska S.A.