Throwback Thursday, September 21st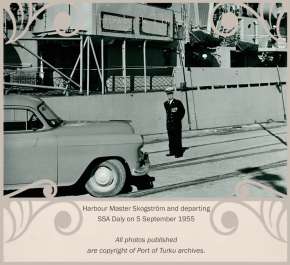 This year Finland is celebrating 100 years of independence. To honor the anniversary we publish a series of photos from the Port of Turku archives themed Throwback Thursday. The captions are short, so if you have more information about the photos, please share it with us in the Port's comment fields in LinkedIn and Twitter.
Harbour Captain Bror TH. Skogström was the Deputy Harbour Master from 1919 to 1947 and Harbour Master until 1956. In the picture taken 1955, he is posing in front of the American USS Daly.
When in 1947 City of Turku received a tugboat from it's twin town Gothenburg, Deputy Harbour Master  Skogström left in the middle of his summer vacation to pick up the tugboat. He drove the tugboat first to Stockholm and from there to Turku. The vessel was named "Göta" in Turku, according to Göta River in Gothenburg. That ship pulled the barges of the Port of Turku until the 1990's.