Throwback Thursday, September 14th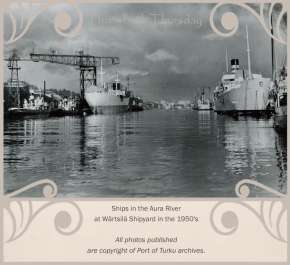 This year Finland is celebrating 100 years of independence. To honor the anniversary we publish a series of photos from the Port of Turku archives themed Throwback Thursday. The captions are short, so if you have more information about the photos, please share it with us in the Port's comment fields in LinkedIn and Twitter.
The picture taken from the mouth of the River Aura in the 1950's shows cranes and vessels in the Crichton-Vulcan shipyard. After the post-war expansions Crichton-Vulcan was Finland's largest shipyard, with some 2900 employee. The shipyard moved to Perno in the mid 70's and is today known as Meyer Turku Oy.