Throwback Thursday, September 7th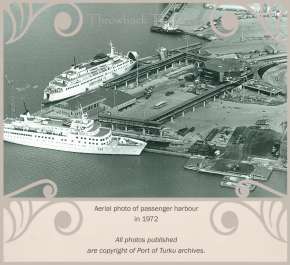 This year Finland is celebrating 100 years of independence. To honor the anniversary we publish a series of photos from the Port of Turku archives themed Throwback Thursday. The captions are short, so if you have more information about the photos, please share it with us in the Port's comment fields in LinkedIn and Twitter.
A lot happened in Turku passenger harbour in the 1970's; traffic rose to an all-time high-level as up to a dozen ferries sailed between Turku and Stocholm daily. To meet the new requirements Silja Line had a new passenger terminal built to the tip of Kanavaniemi. In the picture, taken in 1972, the new terminal is on the right.
The passenger ships pictured were built in six-year intervals, but they represented two different periods in the history of passenger ships. M/S Floria was completed in 1970 and represents the new era whereas M/S Ilmatar was built six years earlier and represents the old era.