Albatros rounds off the cruise season in Turku with a call on Sat 2 September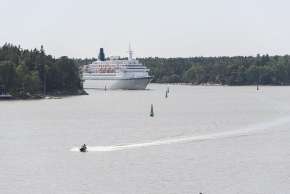 Turku welcomes the last cruise vessel of the season on 2 September in the morning when Albatros arrives in the port. Albatros also opened the cruise season in Turku on 19 June together with Ocean Majesty.
The ship arrives from Helsinki and continues the same evening to Stockholm. In Turku the passengers have various excursions to choose from such as a traditional city sightseeing with visits to some main sights (Turku castle, Turku cathedral and Luostarinmäki handicrafts museum), Turku and nearby Naantali, Turku-Naantali cruise & tour as well as a visit to Meyer Turku shipyard.
Albatros is a classic cruise vessel with a length of 205 m, passengers max 830 and crew 340. The passengers are mainly Germans. There will be a folk dance group performing at the pier. VisitTurku and the Seamen's Mission are also present. There is a free shuttle bus service between the pier and the city centre throughout the day.
Albatros called Turku also in 2016.