Throwback Thursday, August 17th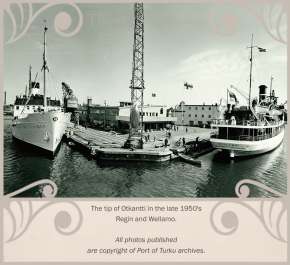 This year Finland is celebrating 100 years of independence. To honor the anniversary we publish a series of photos from the Port of Turku archives themed Throwback Thursday. The captions are short, so if you have more information about the photos, please share it with us in the Port's comment fields in LinkedIn and Twitter.
In picture on the left is Rederi AB Sveas M/S Regin, which was completed in 1921. The vessel was ordered in 1914 under the name Gauthiod, but the completion was delayed by the 1st Word War and the shipyard completed a ship named Regin. The ship could accommodate 465 passengers, of which 127 could be accomodated in cabins.
On the right, S / S Wellamo, which was the last passenger steamer in the Turku archipelago. She was commonly known in Turku as "Mulli-Wellamo" (Bull calf-Wellamo) because she often carried cattle for slaughter from the archipelago to Turku slaughterhouses.