Throwback Thursday, August 10th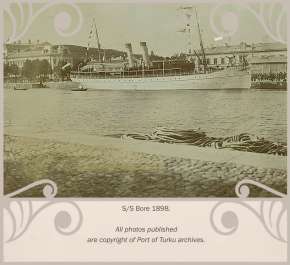 This year Finland is celebrating 100 years of independence. To honor the anniversary we publish a series of photos from the Port of Turku archives themed Throwback Thursday. The captions are short, so if you have more information about the photos, please share it with us in the Port's comment fields in LinkedIn and Twitter.
This week's picture shows passenger steamer Bore that operated on the Turku – Mariehamn – Stockholm route. On December 31, 1899, she ran aground in a dense fog. She sank the next day at a depth of 27 meters and was declared confiscated and removed from the ship register.
However, the ship was raised in spring 1901. The ship was repaired by shipyard in Copenhagen in late 1901 and returned to traffic in December 1901 under the name Bore I.