Throwback Thursday, August 3rd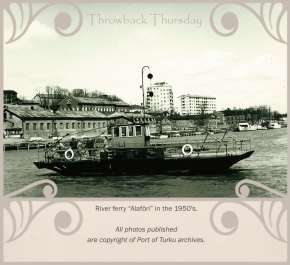 This year Finland is celebrating 100 years of independence. To honor the anniversary we publish a series of photos from the Port of Turku archives themed Throwback Thursday. The captions are short, so if you have more information about the photos, please share it with us in the Port's comment fields in LinkedIn and Twitter.
In this picture taken in the 1950s, Alaföri carries a crowd over the Aura River. Föri was finished in 1903 and it was put into operation in 1904. It is the oldest vehicle in everyday professional use in Finland. Föri can carry a maximum of 75 passengers at a time.