Cruise ship Island Sky will call Turku on 29 July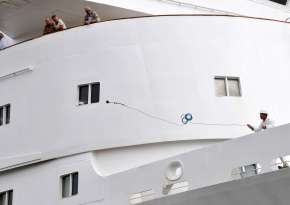 On Saturday 29 July Turku will welcome its next international cruise vessel when Island Sky arrives on her maiden call to Turku. She will moor on the eastern bank of the river Aura very close to the city centre. Island Sky arrives from Helsinki and will continue the same evening to Stockholm.
"This is the first cruise ship of this size class so close to the city. Cruise ships of this size are the ones we can place on River Aura. This way passengers can immediately reach the heart of Turku and see the charm of the city", says Debuty Harbour Master Antti Pekanheimo.
Island Sky is an elegant smaller cruise vessel with spacious suites for around 100 passengers. Her length is 91 m, the passengers are mainly American. The vessel started from London and will call in 11 ports around the Baltic Sea on her cruise. Island Sky is an expedition vessel. The programme in Turku includes visits to Turku castle and cathedral, Luostarinmäki handicrafts open air museum and the market hall. Weather permitting a trip to the archipelago on the vessel's zodiacs will also be arranged.
Island Sky will be welcomed at the pier by a small folk dance group. This fits in well as Turku is currently hosting a great Europeade folklore event.