Memorandum of Understanding between Port of Turku and Passenger Port of St. Petersburg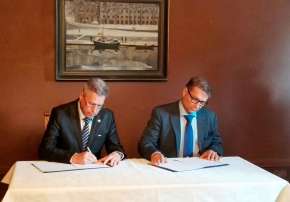 The Passenger Port of St. Petersburg "Marine Façade" PLC and the Port of Turku Ltd have signed today in Turku a Memorandum of Understanding on future cooperation between the two ports.
The MoU is part of the Cooperation Agreement between the Government of St. Petersburg and the City Administration of Turku signed on 27 September 2016. The aim of the MoU is to:
strengthen the cooperation between the Russian Federation and the Republic of Finland,
contribute to sustainable and long-termed development of bilateral relations,
create the appropriate organizational and other necessary conditions for cooperation,
improve the attractiveness of cruise and ferry tourism,
create the most comfortable environment for passengers of cruise and ferry vessels, representatives of cruise and ferry lines and tour operators.
The Memorandum of Understanding was signed by Mr Vadim Kashirin, General Director representing the Passenger Port of St. Petersburg, and Mr. Jaakko Nirhamo, Sales Director and acting Managing Director of the Port of Turku.
" This Memorandum of Understanding is an important step in further strengthening the relations between our ports", says Mr. Jaakko Nirhamo from the Port of Turku.
The signing took place during a visit to Turku by a delegation of St. Petersburg, headed by Governor Mr. Georgiy Poltavchenko.