NextGen Link –project received financial support from the European Union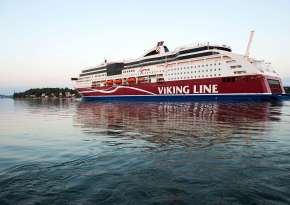 NextGen Link  -project has received financial support from the European Union via the CEF Transport programme. Project upgrades an existing maritime link to cross the Baltic Sea from Finland to Sweden in the Scandinavian-Mediterranean Corridor and develops green shipping and port interconnections.
Upgrade of the maritime link includes the environmental upgrade with a new sustainable LNG powered ro-pax vessel and the infrastructure development in ports. The Port of Turku coordinates the project. The project also includes from Finland Viking Line and Mariehamns Hamn, and Stockholms Hamnar from Sweden.
The development of port infrastructure includes investments in the ports in order to accommodate the new larger vessel and to handle efficiently the increased cargo and passenger capacity.
The Port of Turku is investing in the development of the logistics and services in the port area, including a new parking hall and control equipment of trucks. Improving vessel traffic services is also under study.
Read more about the project: https://www.portofturku.fi/en/port-as-company/reneval-of-the-port/