Throwback Thursday, July 13th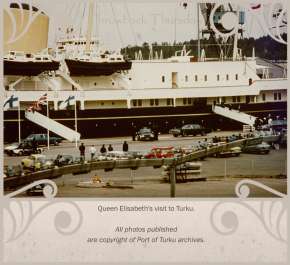 This year Finland is celebrating 100 years of independence. To honor the anniversary we publish a series of photos from the Port of Turku archives themed Throwback Thursday. The captions are short, so if you have more information about the photos, please share it with us in the Port's comment fields in LinkedIn and Twitter.
Queen Elizabeth II and his spouse, Prince Philip, visited Turku in May 1976. Royal guests were inter alia introduced to the Craftsman's Museum during their visit. In Turku, the guests stayed at the Britannia yacht, anchored at the port, from where they also sailed back to the UK.