Cruise ship Silver Cloud will call Turku on Thursday 13 July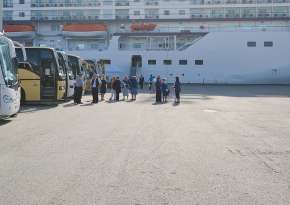 Turku's international cruise summer will continue than Cruise ship Silver Cloud will call Turku on Thursday 13 July at 7.00 am. It arrives from Visby and continues to Helsinki at 5.00 pm.
Silver Cloud is a small luxury vessel carrying max 296 passengers and 222 staff. The vessel is 157 m long and was built in 1994. The passengers are mainly middle-aged and most of them are either Americans or British.
There are 4 excursions on offer for the passengers: Highlights of Turku (including the medieval Turku castle, Turku cathedral and outdoor Luostarinmäki handicrafts museum), Turku city and Stentorp sheep farm, Turku & Naantali and the Gardens of the summer residence of the President of Finland as well as A nature walk in the Ruissalo national park.
For individual passengers & crew there is a free shuttle bus service between the berth and the city centre, which is only 3 km away. Along the route there are many interesting sights such as Turku castle right next to the port and Forum Marinum maritime centre located on the bank of the river Aura.
Turku will be one of the last destinations the vessel calls in her current form. In August the vessel will undergo extensive refurbishment and become an ice class expedition ship to sail mainly in the polar regions.
In the course of the summer Turku will welcome also Saga Sapphire on 22.–23.7., the expedition vessel Island Sky on 29.7. and 4.8. and Albatros 2.9.