Port of Turku supports Team Rynkeby in a good case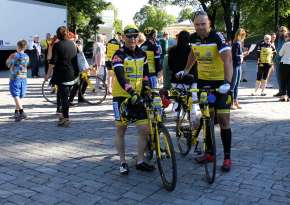 Team Rynkeby is a Nordic charity cycling team. Every summer they cycle to Paris to raise money for children with cancer and their families.
Teams from five different countries will cycle to Paris for the 16th time between July 8 and July 15, 2017. The project includes 1,700 cyclists and 450 assistants in 44 teams.
We are supporting Team Rynkeby charity organization. In Team Rynkeby Turku is also one of our staff member, the crane driver Juha Kujala. (Pictured on the left.)
Rynkeby Foods A/S covers all the key costs of the project and cyclists will pay their own bikes, clothes and travel, which means that Team Rynkeby's the money from all countries will be donated in full to each of the local cancer association in each country. The money collected in Finland will be donated to Sylva Ry.