Throwback Thursday, June 22nd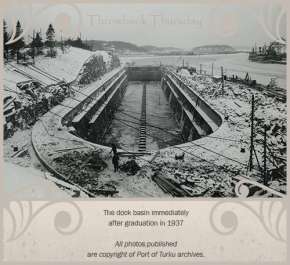 This year Finland is celebrating 100 years of independence. To honor the anniversary we publish a series of photos from the Port of Turku archives themed Throwback Thursday.
The captions are short, so if you have more information about the photos, please share it with us in the Port's comment fields in LinkedIn and Twitter.
The dry dock in the harbour area was excavated in 1934-1937 for the purpose of building submarines for the Finnish Navy. The dock was expanded at the turn of the 1950's to the 1960's for larger ships. When the dock area reached its limits of expansion, a new dock was built in Turku in the 1970's.