Two international cruise ships visit Turku on Monday 19th June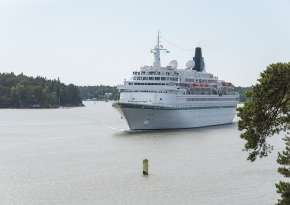 Turku's international cruise season starts in a grand manner when both Albatros and Ocean Majesty call Turku on 19 June. Both Albatross and Ocean Majesty will arrive in the morning after 7.30hrs . Albatros is a classic cruise vessel with a length of 205 m, passengers max 830 and crew 340. The passengers are mainly Germans. The vessel will arrive in the morning from Helsinki and continue in the evening to Stockholm. In Turku the passengers have various excursions to choose from such as a traditional city sightseeing, Turku and nearby Naantali and a tour to the maritime centre Forum Marinum and Meyer Turku shipyard. Albatros called Turku also in 2016.
Ocean Majesty is a classic smaller cruise vessel with a length of 135 m, passengers max 500 and crew 250. The passengers come mainly from Germany and many of them are regular customers. The vessel arrives from Helsinki and continues from Turku to Kiel. The theme of the cruise is The Metropolises of the Baltic Sea – following in the footsteps of Reformation. Turku is considered to be Finland's only city of the Reformation. A guided city tour is available, but many do some sightseeing on their own, too.
In the course of the summer Turku will welcome also Silver Cloud on 13 July, Saga Sapphire on 22 – 23 July and the expedition vessel Island Sky on 29 July and 4 August.