Throwback Thursday, June 15th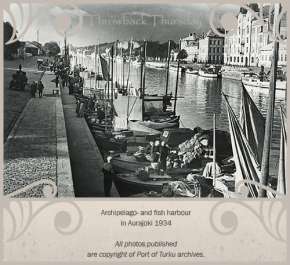 This year Finland is celebrating 100 years of independence. To honor the anniversary we publish a series of photos from the Port of Turku archives themed Throwback Thursday.
The captions are short, so if you have more information about the photos, please share it with us in the Port's comment fields in LinkedIn and Twitter.
This photo present Archipelago and fish harbour in Aurajoki 1934. When fishermen and artisans of the archipelago came to town to sell their products, they moored at the bank of the river Aura. It was a good place for customers to do their shopping in one place.