International cruise season starts in port of Turku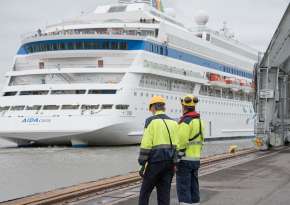 Turku's international cruise season starts in a grand manner when both Albatros and Ocean Majesty call Turku on Monday 19 June.  During the season Turku will be visited by seven cruise vessels with Albatros' second call closing the season on 2 September. The number of passengers for the whole season is around 4,000.
In the course of the summer Turku will welcome also Silver Cloud on 13.7., Saga Sapphire on 22.–23.7. and the expedition vessel Island Sky on 29.7. and 4.8 Saga Sapphire will time her arrival in Turku to coincide with the Tall Ships Race event. One excursion option for the passengers is a short sail aboard a galleass, which will also participate in the race.
All the ships calling Turku this season are small and medium size cruise ships that can also visit smaller destinations where bigger ships don't fit. The port of Turku has five berths available for cruise vessels, one of which is ideally located at the mouth of the river Aura right next to Turku castle.
The Port of Turku is a congestion free port, located close to the city centre. The cruise passengers can easily visit many main sights and thus make the most of their visit in Turku. There is a free shuttle bus going between the berth and the city centre throughout the cruise vessel's stay in the port.
The Port has made some improvements to the infrastructure that also benefit the cruise vessels. End of 2016 the construction of three fixed wastewater sewers was completed. The Port of Turku will receive the wastewater from cruise vessels free of charge.
Turku is a very suitable cruise destination for small and medium size vessels with a maximum length of 230 m. In addition to the breathtaking archipelago the cruise guests can learn about the local medieval history, shipbuilding, local food at the market hall, visit the nature reserve Ruissalo and the Finnish president's summer residence garden and much more.
The centenary of Finland's independence in 2017 adds a special glow to the cruise season, too.
Welcome to Turku!