Throwback Thursday, 25th May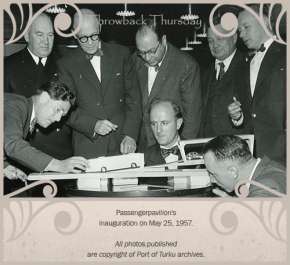 This year Finland is celebrating 100 years of independence. To honor the anniversary we publish a series of photos from the Port of Turku archives themed Throwback Thursday. The captions are short, so if you have more information about the photos, please share it with us in the Port's comment fields in LinkedIn and Twitter.
60 years ago to the day, the passenger pavilion was inaugurated in the port of Turku. One wall of the building features a work of art by the modernist painter Hilkka Toivola. The pavilion is located in the now closed area of the harbour, hence the work of art can only be admired by the chosen few.