Throwback Thursday, 4th May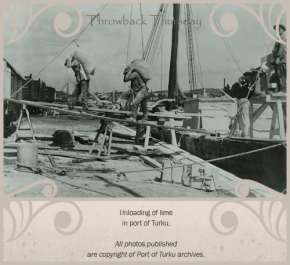 This year Finland is celebrating 100 years of independence. To honor the anniversary we publish a series of photos from the Port of Turku archives themed Throwback Thursday. The captions are short, so if you have more information about the photos, please share it with us in the Port's comment fields in LinkedIn and Twitter.
Traditionally, dock work was all done by hand, and it required strength, skill and endurance to keep up with the pace of the team. Because Turku was an import harbour, the cargoes to be unloaded were extremely varied, and each kind needed to be handled in a different way. The Throwback Thursday -photo shows how the lime was discharged in the 1920s.