Throwback Thursday, 27th April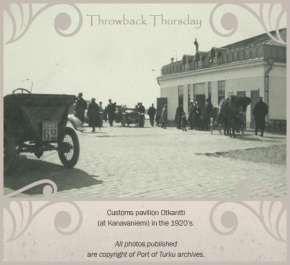 This year Finland is celebrating 100 years of independence. To honor the anniversary we publish a series of photos from the Port of Turku archives themed Throwback Thursday. The captions are short, so if you have more information about the photos, please share it with us in the Port's comment fields in LinkedIn and Twitter.
This photo presents Kanavaniemi customs and passenger pavilion (completed in 1899). After the completion of the building, the departure point for the international passenger ferries was permanently transferred to Kanavaniemi. Earlier the steamship ports were located almost in the middle of the city and now passengers had to move by a train, horse cab or tram.