Throwback Thursday, 20th April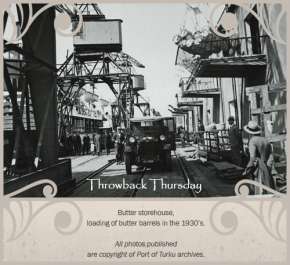 This year Finland is celebrating 100 years of independence. To honor the anniversary we publish a series of photos from the Port of Turku archives themed Throwback Thursday. The captions are short, so if you have more information about the photos, please share it with us in the Port's comment fields in LinkedIn and Twitter.
The butter warehouse built in 1934 was one of the port's most important development impulses in the 1930's. The country's total butter exports passing through Turku resulted in direct liner connections to e.g. Hull and Stettin. The butter exports also stimulated the export of other farm products, especially eggs, via Turku. Our Throwback Thursday picture shows a crane shifting a load of butter in casks called "drittels".