Throwback Thursday, 13th April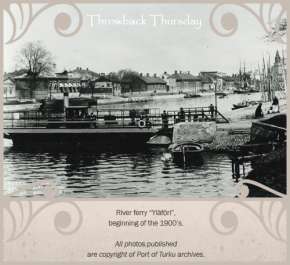 This year Finland is celebrating 100 years of independence. To honor the anniversary we publish a series of photos from the Port of Turku archives themed Throwback Thursday. The captions are short, so if you have more information about the photos, please share it with us in the Port's comment fields in LinkedIn and Twitter.
The city ferry Föri which crosses the river Aura at Tervahovinkatu carried out a test run yesterday after being modernized. In the early 1900's there were two ferries crossing the river.
The upper ferry in the picture operated at Koulukatu but was removed from service when Martinsilta bridge was built in 1940.