Baltic Amelie arrived at the Port of Turku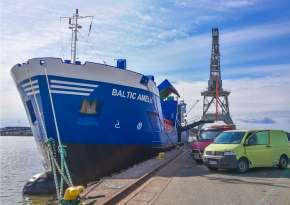 Mini Star moved aside, when mv Baltic Amelie, chartered by Baltic Line AS, arrived to sail together with mv Baltic Madonna as part of Port of Turku´s liner traffic.
Baltic Amelie is a dry cargo vessel built in 1994 and has previously sailed under the Maltese flag under the name Patriot. Now she sails under the Finnish flag and her home port is Mariehamn.
Amelie is slightly over 80 m long with a cargo uptake of 3.085 dwt. and it's equipped with a side port. The mounted intermediate deck of the vessel serves even better the needs of the customers.
By introducing mv Baltic Amelie and mv Baltic Madonna Baltic Line focuses on conventional transports with weekly departures on the route Turku – Poland – Denmark – Norway vv. In addition Baltic Line of-fers a route from Gävle to Turku every other week.