Throwback Thursday, 30th March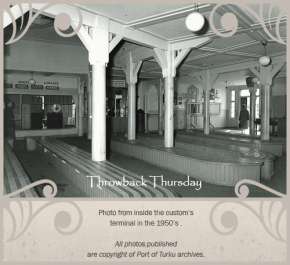 This year Finland is celebrating 100 years of independence. To honor the anniversary we publish a series of photos from the Port of Turku archives themed Throwback Thursday. The captions are short, so if you have more information about the photos, please share it with us in the Port's comment fields in LinkedIn and Twitter.
In the 1950s the port's customs and passenger pavilion was slightly smaller than the current passenger terminals. Sure, the number of passengers was different, too. In the 1950s on average 200,000 passengers passed through the port of Turku per year. Today that number is exceeded in one month – an average of 275,000 passengers pass through the port of Turku every month. Take a peek at our Throwback Thursday picture what it looked like inside the passenger terminal in the 1950s.