Turku Free Zone Company is constructing two new warehouses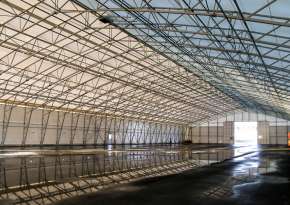 New warehouses are rising in the immediate vicinity of the port and total storage capacity is going to be about 7000 square meters. The unheated side of the new storage facility has already been taken into use, Best-Hall has storage capacity for 3,500 square meters. The other side is heated ecologically by ground heat and will be ready for use next summer. Building project starts in February.
Geothermal heat pump system is already in use in the existing 3 000 square meter hall.
"With introduction of ground source heat we'll save the environment and energy," says Managing Director Stefan Lindström.
The new facilities enables the company to offer more comprehensive warehousing and logistics services for customers' needs. In addition to warehousing, there will also be facilities such as a laboratory, a sample shop and new social facilities for staff. Along with these investments five new workers were hired, too.