Baltic Line's Baltic Madonna enters into service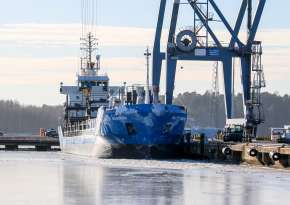 Mv Baltic Madonna started operating beginning of January. The vessel is freighted by Baltic Line AS, registered under Finnish flag and replaces mv Link Star on the route.
Before entering into service Baltic Madonna underwent a major dockage. The hull, cargo space and tween-decks were sandblasted and painted, the elevator of the sideport was serviced and the equipment of the navigation bridge were modernized to meet today's demands. As an update the ship also got its own modern truck fleet, which was delivered and is serviced by Turku Stevedoring Oy.
"Baltic Line transports mainly heavy cargo, such as steel and different kinds of project loads. Returning to conventional transports has enabled us to utilize the ship's full carrying capacity, which significantly improves the cost-efficiency of the route. The tween-decks of Baltic Madonna make it possible to combine heavy and light cargo in the same shipping space." says Mika Saarinen, sales and development manager of Baltic Line.